BT TV & Broadband
BT offers a fast, very reliable broadband service in both ADSL and superfast fibre packages which can be bundled with calls and BT TV.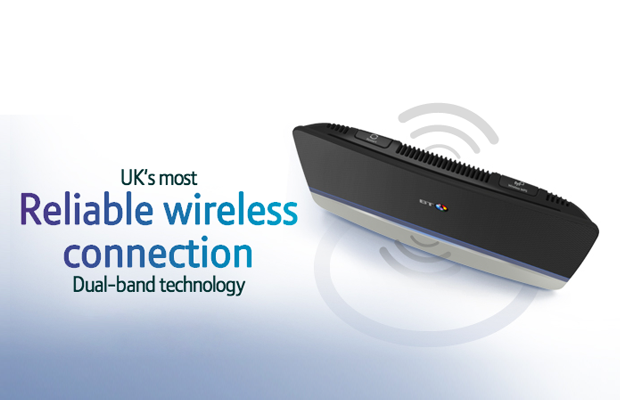 What is BT Broadband?
BT offers a fast, very reliable broadband service in both ADSL and superfast fibre packages which can be bundled with calls and BT TV.
Customers can choose from a selection of different packages which start at 10Mb basic ADSL and go all the way up to 67Mb superfast fibre.
There are different levels of download allowance to suit different needs; those who are heavy downloaders, regularly streaming content, downloading movies and playing online games, will want a larger allowance, whilst a smaller usage limit would suit more casual web browsers.
If you don't want a capped allowance, then you should choose an Unlimited Broadband package for truly unlimited data download.
The BT Broadband and Superfast Fibre packages also come with benefits, such as a BT Smart Hub, BT Virus protect and use of BT's UK-wide network of public wifi hotpots.
The broadband packages can include one of the following levels of inclusive calls:
• Anytime Calls
• Evening & Weekend Calls
• Weekend Calls
BT 15GB Broadband
The smallest BT Broadband package includes a download limit. This makes it cheaper and is suitable for the most casual web users. If you want to regularly download movies and music, or stream content from sites like YouTube, then you may want to go for a package with a higher download limit, or with unlimited downloads over each month.
15GB monthly would be good for checking emails, social networks and sites for news, along with the occasional movie download. Once you start regularly using the internet you could go over the limit, which could result in an additional charge to your bill.
The BT Smart Hub is included, along with a basic security package and use of BT's UK-wide network of public wifi hotspots.
Superfast Fibre Essential 30GB
With BT Superfast Fibre 30GB you get an increased monthly allowance of 30GB for data. This means your usage can be twice that of the smaller BT Broadband package, allowing you to download far great amounts of movies and music. There is still a limit, so you would need to be aware of how much of your allowance is being used by your web activity.
BT Superfast Fibre 30GB deals will include a BT Smart Hub, a basic security package and use of BT's UK-wide network of public wifi hotspots, with the option to add Unlimited Anytime Calls.
BT Broadband Unlimited and Superfast Fibre Unlimited
With any BT Unlimited package, you get unlimited downloads, so there is no cap in place when you download movies, music, photos and other data. This is ideal for those who download heavily throughout the month, and you don't have to worry about going over a limits.
You could choose the standard ADSL connection or choose BT Superfast Fibre for fibre-optic broadband, which offers a faster connection. Fibre-optic broadband technology provides a broadband speed that is consistently close to the maximum achievable.
BT Unlimited broadband services comes with use of BT's huge UK-wide network of public wifi hotspots, a BT Smart Hub and advanced security features. Minimum contracts will apply for any broadband package with BT.
BT Broadband Speeds
With ADSL broadband (the kind which uses the phone line), speeds can vary depending on your location and the time of day, amongst other factors. Each provider will advertise the maximum broadband speeds achievable, but the genuine speeds can vary greatly and will probably average much lower than the advertised maximum.
Thanks to fibre-optic technology it is possible to get superfast broadband, and with BT Superfast Fibre you can get these ultra-quick download speeds throughout the day. The broadband speeds achieved through the fibre-optic network should be much closer to the potential maximum, with a single song downloading in less than a second.
BT Ultrafast Fibre Plus
Even quicker than BT's Superfast Fibre Plus is their top-tier Ultrafast offering with a 100Mb speed guarantee and unlimited usage. It's fourteen times faster than the UK's average broadband speed at peak times so even the busiest of households will have no issue streaming, gaming, video-calling and downloading on multiple devices simultaneously.
Unlimited anytime calls, advanced security features and the BT Smart Hub are all included with BT Ultrafast Fibre Plus.
BT Smart Hub
The BT Smart Hub comes with your BT Broadband package, and it operates as your internet router in the home. It offers a strong and reliable wireless signal, so you can run a good wireless network in the house, and it is energy efficient thanks to the auto-low-power mode activated when there is no web activity
It is easy to set up, and does not add any extra monthly charge to your subscription.
BT Broadband Deals
BT has a lot of deals available which tie in with the broadband packages. You can choose a calls and broadband bundle, and add the digital TV service BT TV. The major digital TV providers which offer phone and web services as well will generally advertise various incentives and offers.
There are a lot of deals to check out, so compare digital TV, broadband and phone to find the best offer. You can use the comparison tools to see how offers from one provider look against a similar offer from elsewhere, and the simple collated set of results make it easier to browse the deals.
See All Deals
---