Johnnie's Judgement: Japanese Grand Prix review
I'm glad I didn't get up at 6am to watch this race.
Max Verstappen was back to top form this weekend, taking an easy win and gifting Red Bull their second consecutive Constructors' Championship.
It felt like a statement victory after last weekend in Singapore, achieving a perfect weekend by topping the timesheets in each practice session, claiming pole position by five-tenths of a second, and then winning the race with the fastest lap.
It was Max at his very best and to be honest, it has seemed to go fairly under the radar just how dominant he was this weekend.
Sure he's been doing this sort of thing all season, but to be top of every session during the weekend is impressive. All that was missing was for him to be leading every lap, which he didn't but only because of pit stops.
There was no doubt that Red Bull would be taking home the Constructors' title at Suzuka, but they probably would've liked it more if they had both drivers on the podium - or at least both finish.
Sergio Perez had a terrible race day, taking himself out of the Grand Prix twice. How was this possible, you may ask? He retired once with car damage on lap 13, he was given a five-second penalty which if not served would be made into a grid penalty for the next race.
So what they did instead was wait about an hour, let him go back out on track while the race was still going on (which is completely legal for whatever reason), do three laps then come back into the pits to serve his five-second penalty and retire the car for the second time.
It was very odd and I as was most people were questioning how there is a rule that allows a team to do that. Maybe Michael Masi came back for one race…
McLaren doing the double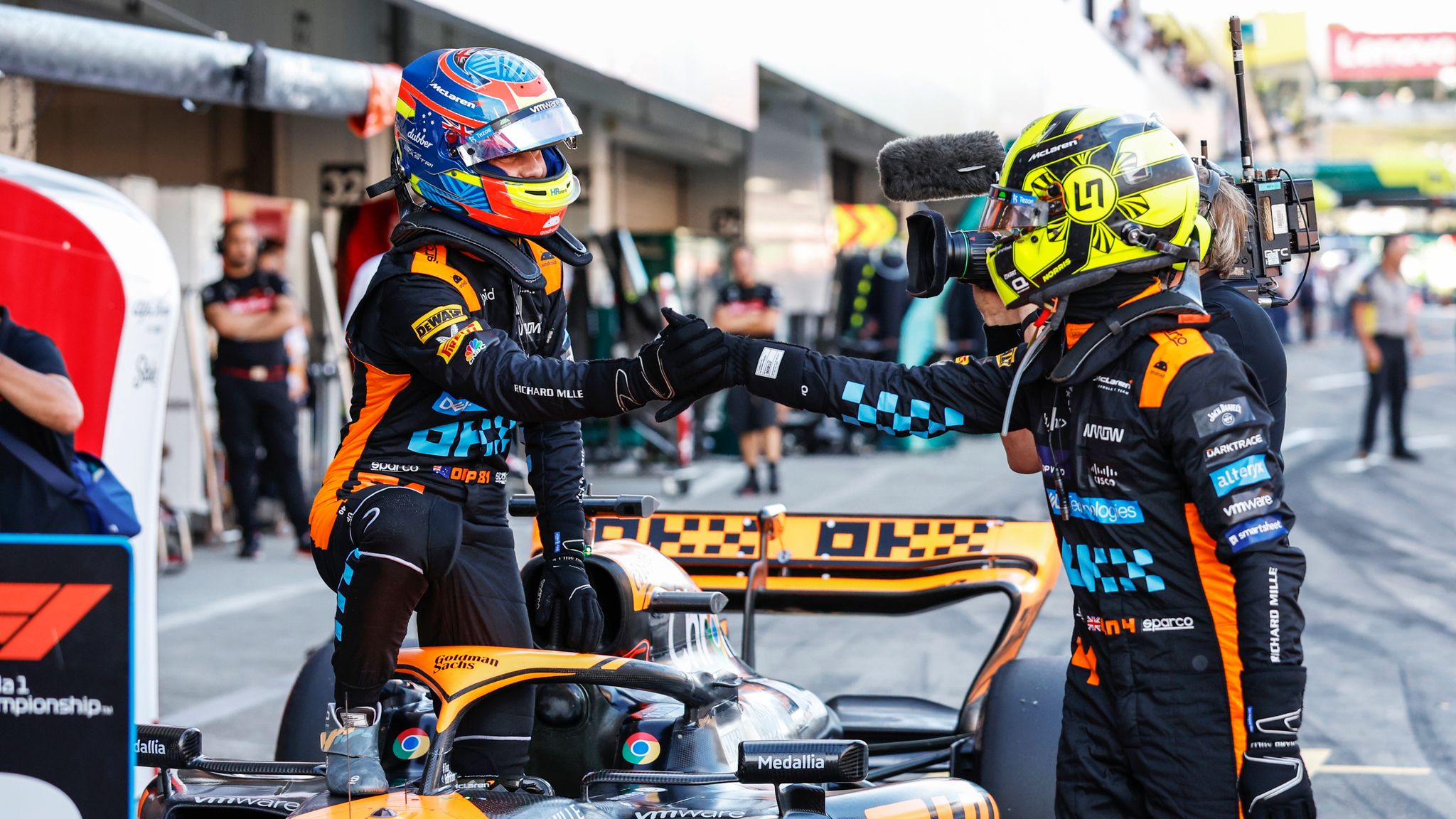 It was jubilation for McLaren and Oscar Piastri in particular as he finished on the podium for the first time in his career.
The Aussie was given the upgraded package that Lando Norris had last weekend in Singapore and did incredibly well with it, qualifying ahead of his teammate and lineup next to Verstappen on the front row for the race.
While the two McLaren drivers did swap positions by the end, they still finished well ahead of Charles Leclerc in fourth, showing once again that they have made the biggest improvements this year and have potentially the second-best car on the grid now.
Piastri earning his first podium of what is sure to be a career filled with trophies was probably the best thing to come out of the weekend that wasn't already a foregone conclusion.
Teammates fighting
Elsewhere further back, there were a couple of teams that saw some infighting with their two drivers.
Early on Liam Lawson managed to make a move on his teammate Yuki Tsunoda and held on to finish ahead, showing once again that the Alpha Tauri stand in driver is more than ready for a seat next year.
Team orders had to be employed for the two Mercedes drivers. They were on differing strategies - Lewis Hamilton on the two-stop, George Russell on the one-stop - and towards the end, despite being on much older tyres and with Ferrari's Carlos Sainz threatening behind, Russell did not want to concede fifth place to his teammate.
It took a fair bit of convincing it seemed from the Mercedes pit wall to get George to give the position to Hamilton - something that should've happened a week earlier.
A bit behind, the Alpine drivers also had a bit of a tiff. Esteban Ocon allowed teammate Pierre Gasly to go ahead to get Fernando Alonso in eighth, but after he didn't manage to catch him, Gasly was told to hand the position back to Ocon.
Problem is, Gasly didn't know this was to be the case.
It's fairly common that a team will tell the drivers to switch if the one behind is quicker than the other and they believe they can get an extra place or two, and then if not they cede the position back to their teammate at the end.
Gasly, for whatever reason, didn't think that was the case at the end of the race. He thought he was just allowed through. So when he was told to let Ocon through, he was livid.
It wasn't really picked up on the broadcast but was discovered later on. It's another bad notch for a team that is having some major difficulties all throughout, so hopefully any meetings they have there will be cleared up quickly and easily.
In the end, it wasn't the most exciting race this season but also wasn't incredibly boring. I'm glad I was wise enough to not get up at 6am to watch it live and instead opted for the 9.30am replay.