Sky Atlantic Catch-Up | How to watch what you missed
We take you through how to stay up to date on your favourite series.
Sky Atlantic is one of the broadcaster's most popular channels which exclusively features a wealth of award-winning content from both the UK and the US. Learn how you can catch-up on the Sky Atlantic content you've missed with our handy guide.
How can I catch up with Sky Atlantic?
All Sky TV customers have access to catch-up TV as part of their package. As long as you've got a good broadband connection you can watch TV shows from up to 30 days ago via this catch-up service.
In order to access Sky's catch-up service you'll need to connect your Sky box to the internet which you can do either wirelessly or with an ethernet cable.
How do I connect my Sky Q box to the internet?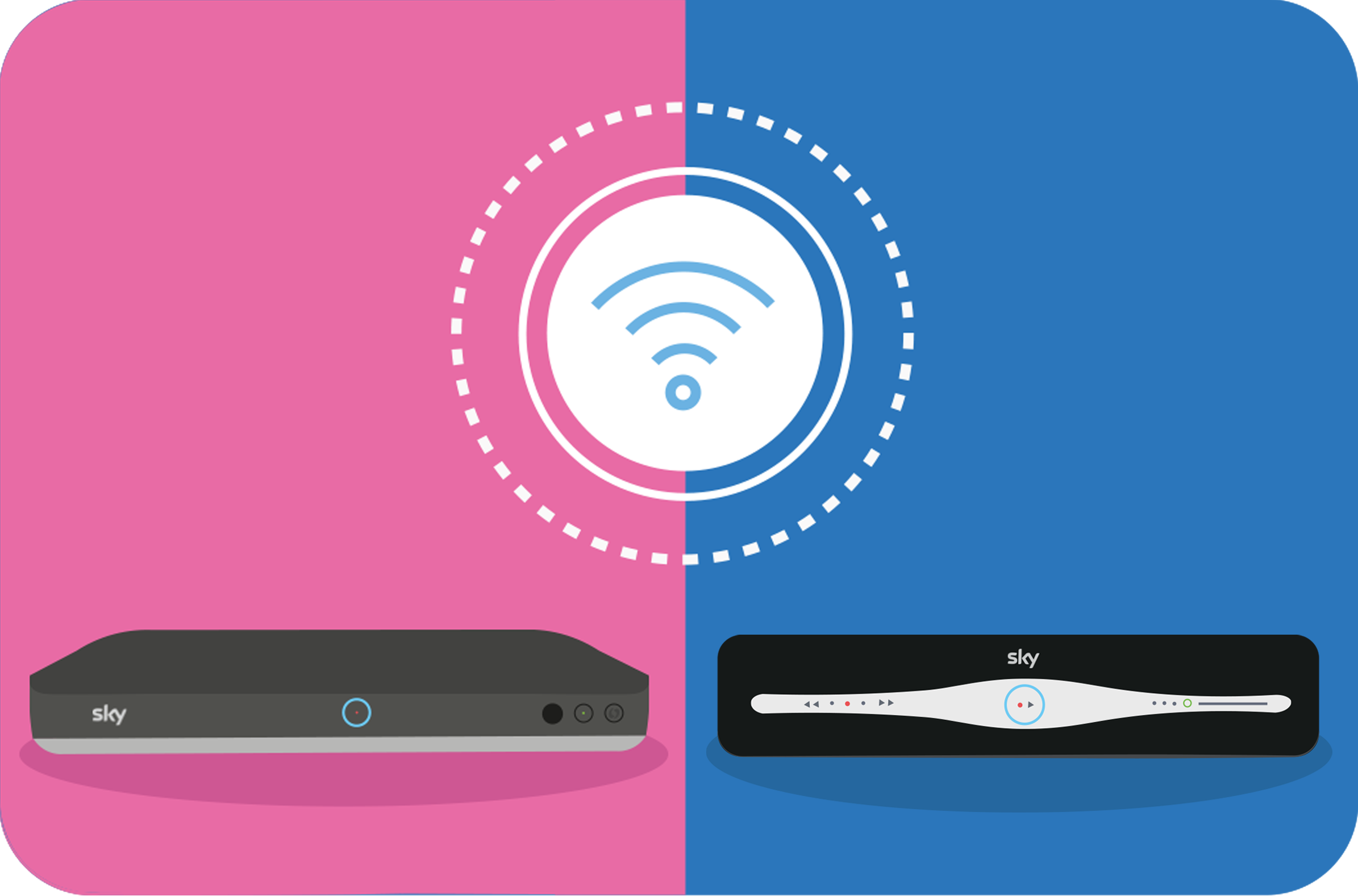 To wirelessly connect up your main Sky Q box head to the Sky Q home menu on your TV and scroll down to settings. Select setup > network > reset then wait a couple of seconds for the box to check the network and press confirm.
You'll then be asked whether you want to connect to Sky Broadband WiFi or WiFi from another supplier. After selecting the appropriate option, simply follow the on-screen instructions.
Those who want to use an ethernet cable should plug one end of it into your Sky Q box and the other into your router. Your Sky Q box should then automatically connect.
How do I connect my Sky HD+ box to the internet?
There's two ways to wirelessly connect your Sky HD+ box to the internet.
You can press and hold the WPS button on your Sky Broadband router until it flashes and then press the WPS button on the front of your box. The lights on the front of your box will flash and then turn solid amber when it's connected.
Alternatively, you can press the services button on your Sky remote followed by settings > network. Press connect with password then select your home wifi network and enter your password. If you'd prefer to use an ethernet cable, simply plug one end into your router and the other into your Sky HD+ box.
Which channel is Sky Atlantic on?
Sky customers will find Sky Atlantic on channel 108 of their EPG. If you have the Sky HD pack, you'll find Sky Atlantic HD on channel 108 and the SD version on channel 808.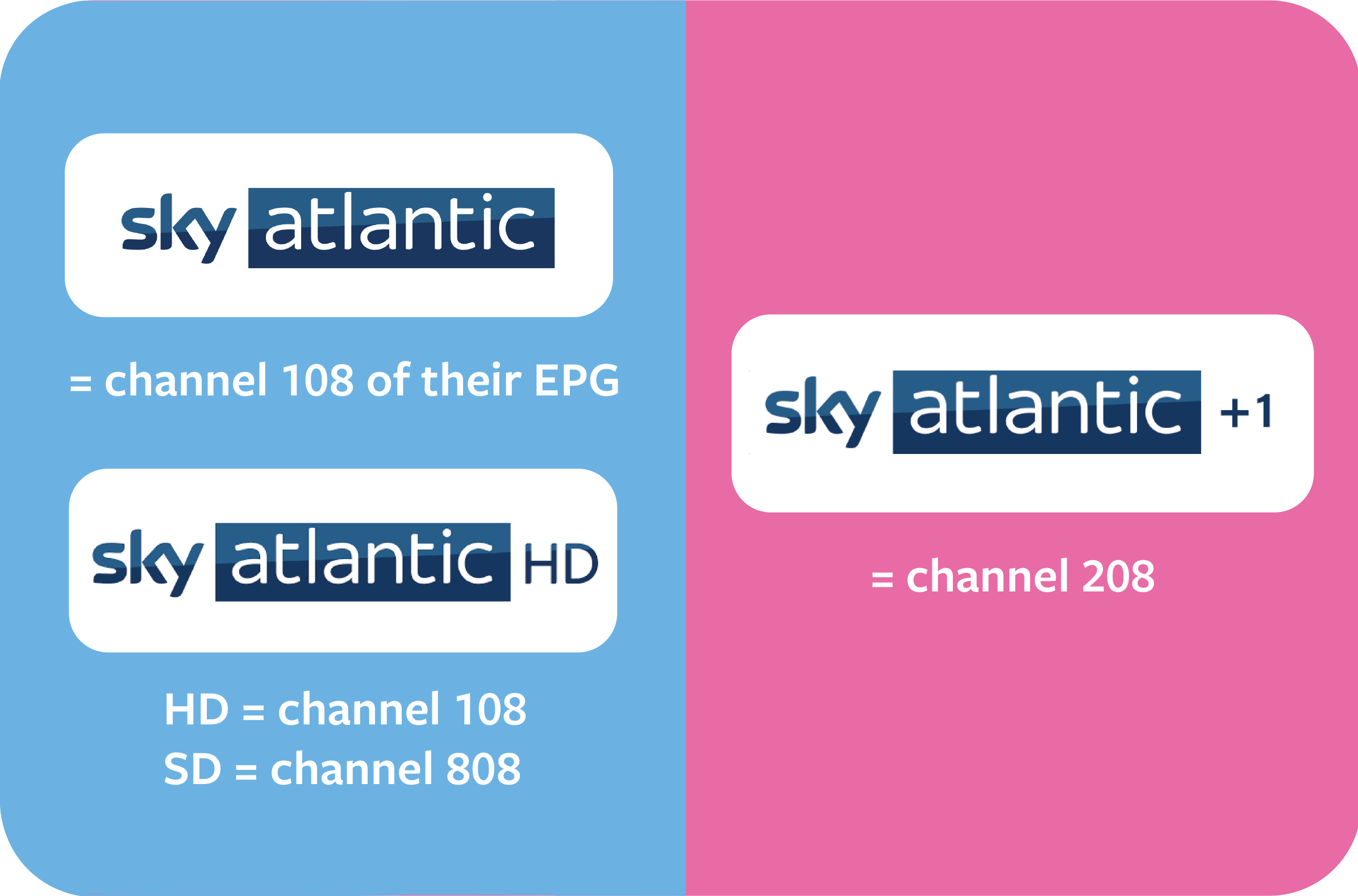 Is there a Sky Atlantic Plus 1 channel?
Yes, you can find Sky Atlantic +1 on channel 208 to catch its slate of programs one hour later.
Which shows are on Sky Atlantic?
Sky Atlantic is the exclusive home to a wide range of critically-acclaimed series from both the UK and the US. While Sky do create their own original content, the majority is contributed by premium US-based channels HBO and Showtime. Customers can enjoy a mix of brand-new episodes and repeats of past seasons.
Sky Atlantic selected shows include:
Gangs of London
The Undoing
ZeroZeroZero
I Hate Suzie
Euphoria
Can I watch Sky Atlantic in HD?
To watch Sky Atlantic in HD you'll need to add the Sky HD pack onto your existing package for an extra £6 a month.
Can I watch Sky Atlantic in UHD?
Customers will be able to enjoy certain Sky Atlantic shows in UHD on demand with the Sky HD and Ultra HD add-ons. You can take both of them for £10 a month or if you already have the HD add-on, get the UHD pack for an extra £4 month.
On top of this, you'll also need a UHD compatible TV and either A Sky Q 1 TB UHD or 2TB box. UHD content is unfortunately not available on Sky Q Mini boxes.
Sky TV + Superfast Broadband
£37.00 a month (down from £62.00)
Enjoy hours of premium entertainment both live and on demand as well as reliable broadband that's capable of supporting the whole family.
Stream over 500 box sets on demand
Choose from over 300 different channels
Average download speed of 59Mbps
How long are Sky Atlantic shows available on catch-up?
Everything that's on Sky Atlantic will generally be available on catch-up for about a month afterwards. Once you've downloaded the show you'll have plenty of time to watch it, but some can delete themselves after a certain amount of time.
To check if there is a time limit on a show, head into your recordings from the homepage and press "i" on your remote for more information.
Is there an app for Sky Atlantic catch-up?
Another way to catch-up with content on Sky Atlantic is to use Sky Go, a free app which allows you to stream live and on-demand content. It's included with all Sky TV packages at no extra cost and is compatible with a range of iOS and Android smartphones and tablets and desktop/laptop computers.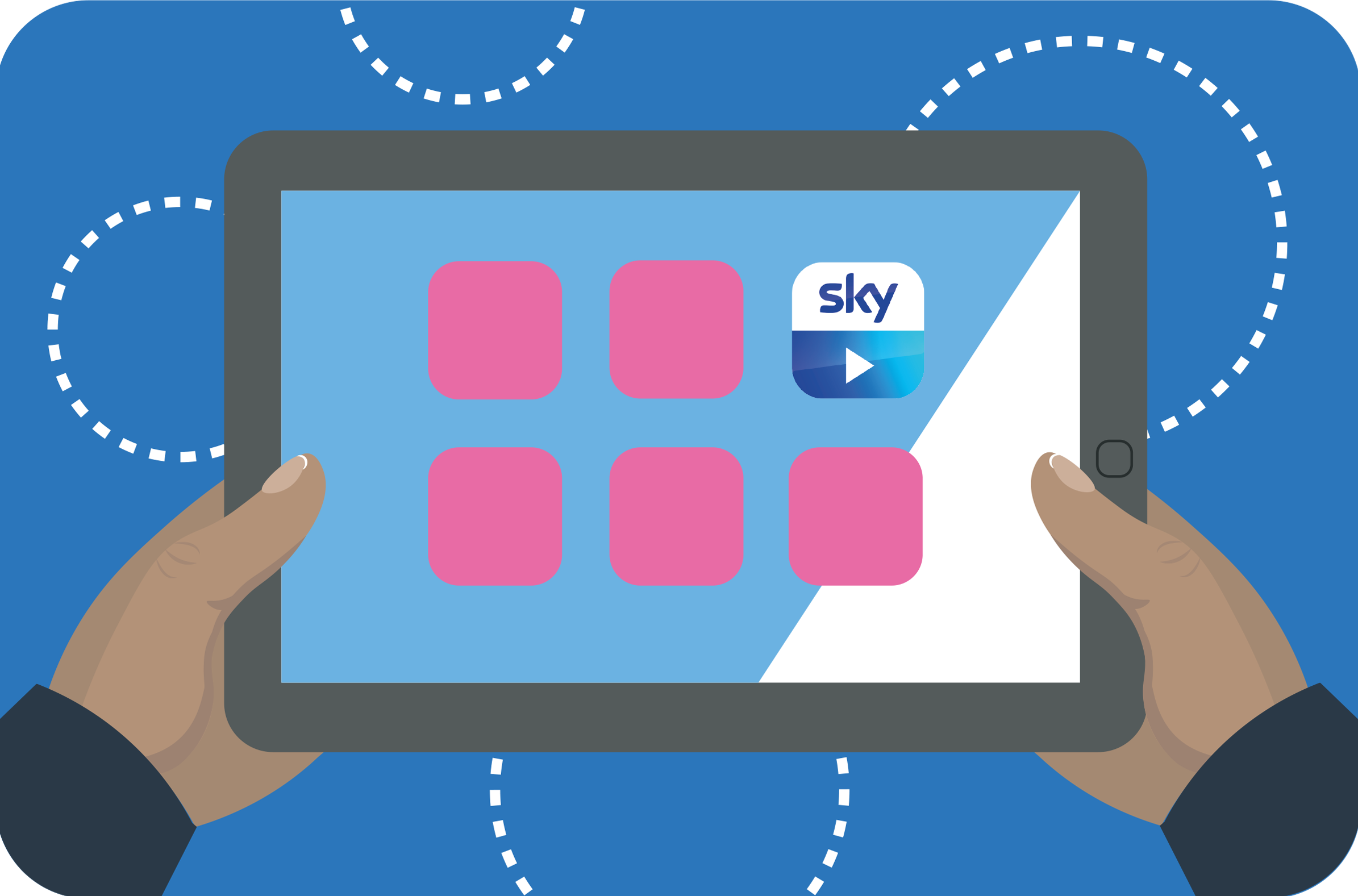 You can register up to six separate devices to one Sky Go account but can only watch on one screen at a time. One device can be swapped for another at any time by heading into the settings menu on your Sky Go app.
The upgraded version of Sky Go, known as Sky Go Extra, is available for free to customers with the Sky Multiscreen add-on but is priced at an extra £5 for everybody else. Sky Go Extra also gives you the ability to download content for offline viewing and stream to two devices simultaneously.
Can I record Sky Atlantic?
Yes, you can record anything that's live and available on your TV package with the Sky +HD and Sky Q set top boxes. It's a great alternative to using Sky's catch-up service as it allows you to store content for much longer than its 30 day limit.
Sky TV + Netflix + Cinema
£36.00 a month (down from £55.00)
Sky's unbeatable line-up of content from both the US and UK sits alongside Netflix's vast library of originals and over 1,000 films on demand with Sky Cinema.
Over 500 box sets on demand from Sky
A new premiere on Sky Cinema everyday
Recommendations for Sky and Netflix together
Sky Atlantic on NOW TV
Purchasing a NOW TV Entertainment Pass for £9.99 a month gets you 16 live TV channels including Sky Atlantic, Sky One, Comedy Central, Fox and SyFy. You'll also have access to an impressive on-demand library of over 300 box sets so you can enjoy Sky Atlantic shows whenever you like.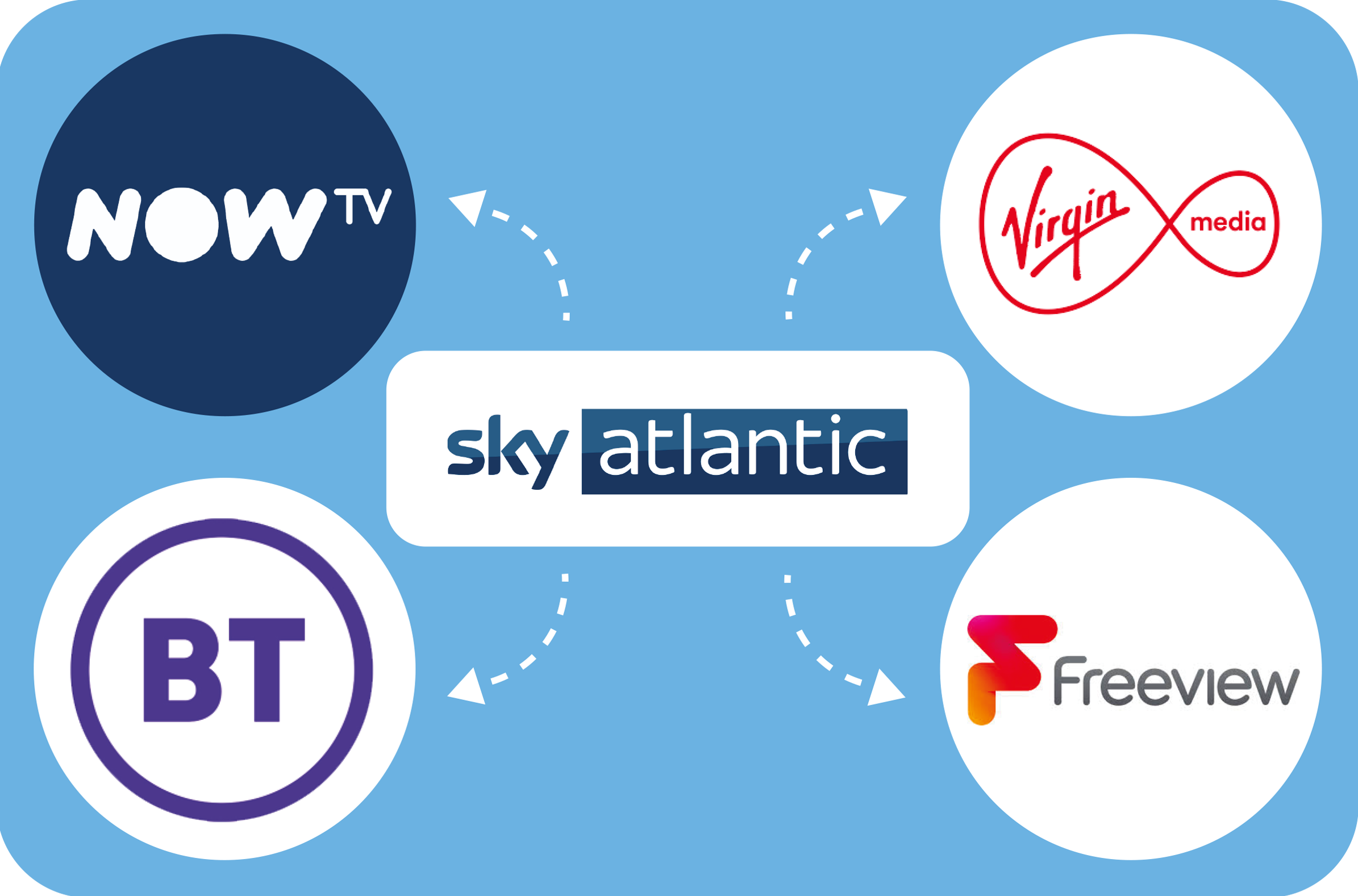 Each NOW TV pass is contract-free working on a month by month basis so you can enjoy everything Sky Atlantic has to offer without committing to a contract. You can dip in and out when your favourite shows are on so you don't have to pay for a service you're not using.
The NOW TV app is available to download for free on over 60 different devices including both iOS and Android smartphones and tablets, games consoles, smart TVs, laptops and the NOW TV streaming stick.
Sky Atlantic on Virgin Media
Virgin Media customers can't currently watch Sky Atlantic with their TV packages but we'll update this page if anything changes.
Sky Atlantic on BT
BT customers can now access Sky Atlantic through the NOW TV Entertainment pass.
Existing customers will need to add the Entertainment pass onto their TV package for an extra £9.99 a month which will allow you to access Sky Atlantic through the NOW TV app on their set top box.
New customers can choose between either the Entertainment, Big Entertainment or VIP package all of which come with the NOW TV Entertainment pass automatically included. Again, you'll have to access Sky Atlantic through the NOW TV app on your set top box.
Sky Atlantic on Freeview
Sky Atlantic is not available on either Freeview or Freesat. As it's a premium channel, it's unlikely to become available on either at any point.