2023 British Grand Prix: Preview and predictions
What's to come at the 2023 British Grand Prix.
Lewis Hamilton flies the flag of Great Britain after winning the 2021 British Grand Prix. (Photo: MercedesAMG F1/Twitter)
The British Grand Prix is a staple of Formula 1. Along with the Italian Grand Prix, Britain has featured in every single season of the F1 World Championship.
While the GP has changed locations numerous times in the past, it has found its home at the iconic Silverstone circuit, a favourite for fans and drivers alike.
The 2023 season has so far not thrown many challenges at the reigning champions Red Bull and Max Verstappen. However, with promises of big upgrades from teams such as Mercedes to come for the race weekend, could we start to get a more interesting championship going forward?
Results of the 2022 British Grand Prix
2022 saw an exciting race and a very welcome finish, with Ferrari's Carlos Sainz taking his maiden Formula 1 win.
He was joined by Red Bull's Sergio Perez and hometown hero Lewis Hamilton on the podium, with the pair embroiled in a long battle that also included Sainz's teammate, Charles Leclerc, and produced one of the most iconic commentary lines of the season.
Verstappen had taken the championship lead by the time of the Grand Prix, and even after a disappointing seventh-place finish due to damage he suffered, he still held a strong advantage over his teammate Perez in the championship standings.
The Grand Prix was marred by a horrible-looking incident at the race start, with Alfa Romeo's Zhou Guanyu being sent airborne after colliding with Mercedes' George Russell.
Thankfully, despite being stuck between the tyre barrier and the catch fencing at turn one, Zhou managed to come away from the incident largely unscathed.
What's New for the Race Weekend?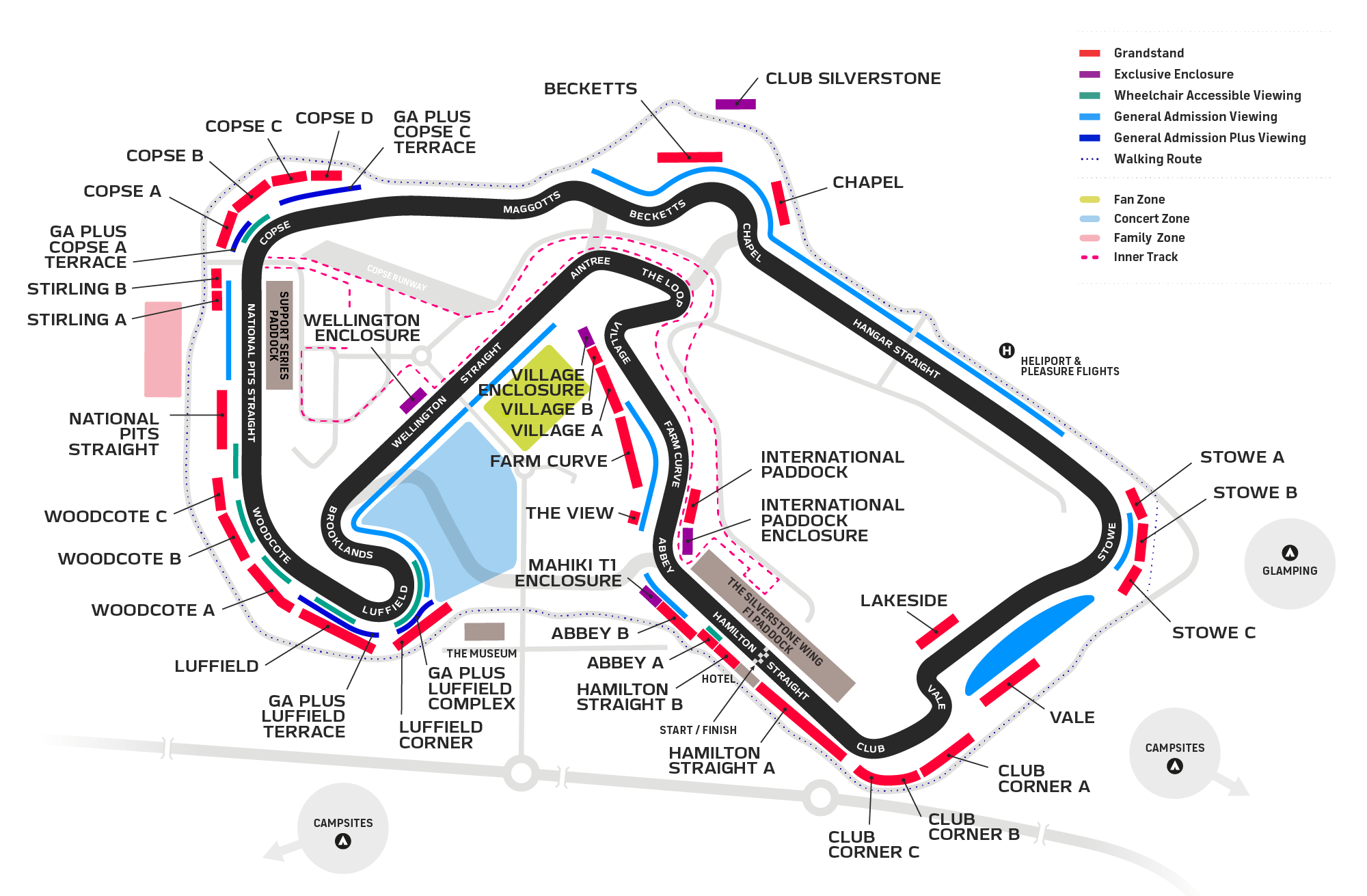 Silverstone track map
Many teams have been bringing in substantial upgrade packages in an attempt to close the gap to their competitors. One such team is the British outfit, McLaren.
The Woking-based side has had a very up-and-down year, but last time out in Austria, lead driver Lando Norris showed off what they have to bring to the table now.
Saddled with all the new upgrades, he brought the car home in fourth place, vastly better than his rookie teammate Oscar Piastri who finished 16th, although he was running without any of the new upgrades.
However, coming into the 2023 British Grand Prix, the talk of the town is Mercedes, who have already stated that they will be bringing some major upgrades for the race.
After sticking to the zero sidepods design to start the season, a decision that proved unwise, they premiered a more standard design at Monaco, with results proving fruitful almost immediately after a double podium finish at the Spanish Grand Prix.
With some more major upgrades coming this weekend, specifically for the underfloor of the car, the hope is that the (not so) Silver Arrows will be able to close the gap even further to Red Bull, something which they, Ferrari and Aston Martin have been looking to achieve.
Predictions for the 2023 British Grand Prix
While the teams around may be more in play now with upgrades bridging the gap, it's hard to look past Red Bull's dominance this season, and even harder to imagine anyone but Max 'The Flying Dutchman' Verstappen on the top step come Sunday.
That being said, Verstappen does have something of an unlucky streak at Silverstone. He has never won the British Grand Prix - and before anyone says it, his win at the 70th Anniversary Grand Prix at Silverstone in 2020 does not technically count as winning the British Grand Prix.
He has also finished on the podium in Silverstone only twice in his career, so it isn't one of his absolute strongest tracks. But with a car as perfect as the one he is driving, the likelihood of making it six wins in a row is very high.
As for who will be joining on the podium, Max's teammate Perez has a good chance despite some very underwhelming performances lately.
For the optimists, though, they will be holding out that Mercedes' upgrades will work wonders and will see the two Brits of Hamilton and Russell on the podium once again.
And maybe, if the home crowd wills it enough, one of them could be lucky enough to beat Verstappen across the line.
Current Championship Standings
Drivers' Championship Standings

1st

Max Verstappen

Red Bull Racing Honda RBPT

229

2nd

Sergio Perez

Red Bull Racing Honda RBPT

148

3rd

Fernando Alonso

Aston Martin Aramco Mercedes

131

4th

Lewis Hamilton

Mercedes

106

5th

Carlos Sainz

Ferrari

82
Constructors' Championship Standings

1st

Red Bull Racing Honda RBPT

377

2nd

Mercedes

178

3rd

Aston Martin Aramco Mercedes

175

4th

Ferrari

154

5th

Alpine Renault

47
How to watch the 2023 British Grand Prix on TV
Sky Sports F1 is the only place to watch every race this season. With their dedicated Sky Sports F1 HD channel, they provide the very best commentary and analysis of all the races, as well as in-depth looks in the paddock, driver and team member interviews, and unrivalled ways to watch your favourite driver with their onboard camera views.
All this comes along with every session of each race weekend, providing you with the best access to enjoy every moment of the Formula 1 season.
Check out our pick for the best Sky Sports deal this week to ensure you are ready for the 2023 British Grand Prix this weekend.
Sky Stream Entertainment & Netflix + Sky Sports
£37.00 a month (down from £61.00)Prices may change during contract
Sky Sports plus more enjoyable entertainment!
Exclusive sports on Sky
Sky without the dish
Netflix included