Sky Sports F1™ HD
With Sky Sports F1™ HD you can enjoy unrivalled, uninterrupted coverage of all the action from every race in the F1 season. Expert punditry, technical data, pit lane reporting & all in stunning HD.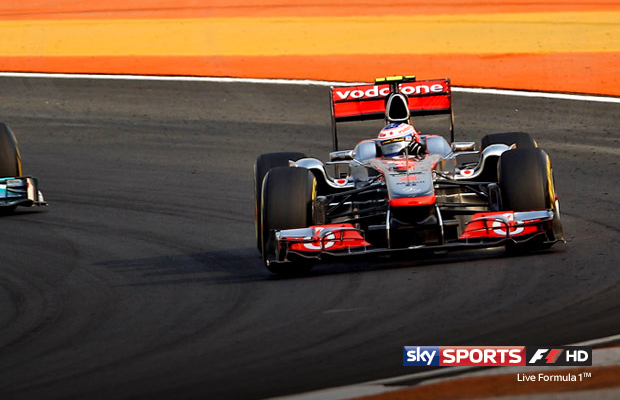 Sky Sports F1™ HD
Every thrilling race and qualifying session of the Formula 1 season is coming to Sky Sports, with unrivalled coverage, analysis and pit lane reporting on a totally dedicated F1 channel.
Sky has put together an exciting team which will bring you every breathtaking moment of action, taking you through each race live and uninterrupted.
Sky Sports F1™ HD will also offer expert punditry, stats, stunning replays and technical updates, making it the best place to enjoy watching all 24 drivers, including former World Champions and the current title holder, battle it out for the biggest prize in motor sport.
Sky Sports F1™: No Advert Breaks
You don't have to worry about missing any action; Sky Sports F1™ HD is the only UK digital TV provider offering every single race live and uninterrupted. There won't be any ad breaks during the live races or qualifying sessions, so you can sit back and enjoy watching the teams and drivers face off from red lights to chequered flag.
Sky Sports F1™ in HD
The exhilarating experience of watching Formula 1 gets the HD treatment from Sky, so you can watch every split-second of stunning action in glorious high definition. With greatly enhanced picture and sound, the races and replays are crisper, sharper and much more vivid.
You need an HD-ready TV in order to watch this dedicated F1 channel in high definition.
Sky Sports F1™ Team
Sky's exciting new team includes the inimitable commentary of Martin Brundle alongside David Croft, updates from pit lane veteran Ted Kravitz and presentation from Sky Sports' own Simon Lazenby. Former BBC Radio F1 reporter Natalie Pinkham is also part of the team.
Former F1 driver Anthony Davidson will co-commentate with David Croft for much of the season's practice sessions, and British racing legend, and former F1 World Champion, Damon Hill will provide his own expert analysis throughout the whole F1 season.
Sky Sports F1™ On Demand
You can watch the thrilling F1 action live on Sky Sports F1™ HD, or catch-up with on demand content on Sky Go. Sky Go is online and offers the live channels and on demand TV in line with your subscription.
If you have Sky Sports F1™ HD, you can sign in to Sky Go with your laptop, iPhone or iPad and watch the races live or watch the catch-up content whenever you want. The Sky Go service means that you don't have to worry about missing the best of the action.
How do I get Sky Sports F1™ HD?
Sky Sports F1™ HD is available on its own or as part of the Complete Sports Pack. F1 fans can choose to take the Sky Sports F1™ HD on its own for £18 a month on top of your Sky package, meaning you won't pay for channels you don't watch.
You can also choose the Complete Sports Packs which gets you Sky Sports F1™ HD as well as all the dedicated Sky Sports channels such as Sky Sports Premier League, Sky Sports Golf, Sky Sports Cricket and Sky Sports Football. You'll also get the Sky Sports Main Event channel included.
To watch in high definition you will need an HD-ready TV. To watch in Ultra HD, you'll need a 4K compatible TV and a 1TB UHD Sky Q box or a 2TB Sky Q Box.
Find out more
---