What is Sky Ultimate on Demand?
Sky Ultimate On Demand brings together Sky Box Sets and Netflix.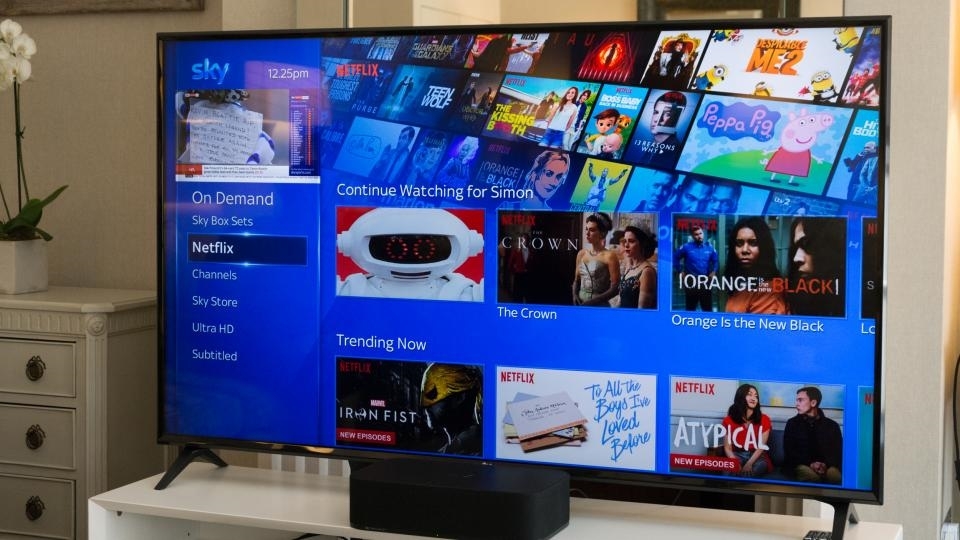 Sky Ultimate on Demand combines Netflix and Sky Box Sets into one TV package giving you access to a huge variety of content on demand.
Your Sky service will function and look exactly as it normally would just with a few extra features designed to make your viewing experience more enjoyable. This guide will run you through those plus tell all you need to know about compatibility and pricing.
Sky Entertainment TV + HD + Kids + Ultimate On Demand + Cinema + Sports + Superfast Broadband
£94.00 a month (down from £128.00)
Keep the whole family happy with this fantastic TV and broadband bundle which really does have something for everyone.
A brilliant mix of TV with over 300 channels plus Sky Box Sets and Netflix
Enjoy an average superfast download speed of 59Mbps
Prices may vary
What is Sky Ultimate on Demand?
Sky Ultimate on Demand is one of the broadcaster's TV packs that, like Kids or Sky Sports, customers can add onto their base Sky Entertainment Package.
It brings together Sky Box Sets and Netflix in one handy package working to seamlessly integrate them together on your main Sky homepage.
You can either use an existing Netflix account which will carry over your profiles and viewing history or set up a new one through Sky.
Sky Ultimate on Demand and Sky Q
Purchasing Sky Ultimate on Demand means that Netflix content is no longer confined to its specific app, although you can still use that if you'd like to.
You'll be able to resume what you were previously watching from your Sky Q homepage and use the Sky Q search function to browse its vast film and TV library.
The recommendations offered by Sky will now be a mix of content from both platforms based on your viewing history as will the Top Picks section which shows off what's popular on each.
Under the new On Demand heading on the left, you'll also be able to switch between registered Netflix accounts without opening up the app.
Sky Ultimate on Demand and Sky Q Experience
Adding the Sky Q experience to your TV package enables you to take advantage of the provider's multi-room feature with Sky Q mini boxes which allow you to stream content around the house.
Paying for the Sky Q Experience on top of Ultimate on Demand is the only way to get Netflix's premium plan on Sky and so get access to its 4K content.
Sky Ultimate on Demand and Sky Go
All Sky customers automatically receive access to the Sky Go app which you can use to stream Sky content to a whole range of devices including smartphones, tablets, game consoles and smart TVs.
Even with Sky Ultimate on Demand you unfortunately can't stream any Netflix content on the Sky Go app. You'll need to download the standalone Netflix app instead.
Sky Ultimate On Demand vs Netflix
It's difficult to really say which is best out of Sky Box Sets and Netflix because it all comes down to what you personally like to watch. A major advantage of Sky Ultimate on Demand is that you don't have to choose, both are equally available to you at any time.
Film fans will prefer Netflix for the obvious reason that there's none featured on Sky Box Sets but otherwise, each boast a brilliant variety of high-quality series.
Sky Box Sets features over 450 series from both the UK and the US with shows added every week. Binge exciting new content like HBO's gritty teen drama Euphoria and hilarious comedy Brassic or catch-up on critically-acclaimed classics like Game of Thrones and The Sopranos.
Netflix's library is extensive and packed with fantastic exclusives you won't find anywhere else. From quirky wrestling comedy Glow and serial killer drama Mindhunter to original films like the Academy-Award nominated Roma and The Coen Brothers' Ballad of Buster Scruggs.
How much is Netflix on Sky?
You'll need to purchase Sky's Entertainment package for £22* a month and then Sky Ultimate on Demand which costs £13* a month.
Netflix's standard subscription tier is normally priced at £8.99 a month and Sky Box Sets would cost you an extra £5* if you bought it separately.
For the Sky Q Experience and the ability to stream Netflix's 4K content you'll need to pay another £13* a month on top. Netflix's premium tier is ordinarily priced at £11.99 a month, so whichever option you choose, it won't be any more expensive than if you were to go and buy everything separately.
Sky customers will receive a combined bill every month for both of these services so payment is as convenient as possible.
*prices may vary