Why is BT Sport changing to TNT?
Will there be any big changes?
BT Sport announced that they would be undergoing a rebranding for this coming season, and now the time has finally come.
Many people have similar questions about the change, and here we are going to explain and answer the question of why is BT Sport changing to TNT.
Why is BT Sport changing to TNT?
BT Sport is changing its name to TNT Sport after BT Sport formed a joint venture with Warner Bros Discovery.
Warner Bros Discovery already owned Eurosport, and the agreement has now seen the Eurosport and BT Sport channels merged, with all their exclusive sports for each now shared under the TNT Sports banner.
The rebrand came into place on 18th July.
Who is Warner Bros Discovery?
You will recognise the name Warner Bros from movies, as Warner Bros Pictures has been around since 1923 and has an impressive film library that includes the Harry Potter movies, the DC Universe, Looney Toons, and lots more.
Warner Bros Pictures is just one of the subsidiaries of the larger company.
Warner Bros. Discovery is a global media and entertainment conglomerate that was formed in April 2022 through the merger of WarnerMedia and Discovery, Inc.
The company's portfolio includes a wide range of assets, including Warner Bros. Pictures as already mentioned, along with HBO, CNN, Discovery Channel, HGTV, Food Network, and TLC.
What sports will be available with TNT Sports?
The same sports from BT Sport and Eurosport will still be available on TNT Sports. This includes:
Football

Premier League
Champions League
Europa League
Europa Conference League
Ligue 1 (French 1st Division)
Serie A (Italian 1st Division)
Vanarama Conference League (English 5th Division)
A-League (Australian 1st Division)

UFC
WWE
Gallagher Premiership Rugby
MotoGP
And many more
Eurosport will also be the lead rightsholder for the 2024 Olympic Games in Paris, meaning that will be the channel to watch to keep up with all the action.
Will the rebrand affect my BT Sport package?
For existing BT customers, nothing will change to your sports packages except the name, which will now be TNT Sport in the package descriptions.
Will TNT Sports be free on Discovery Plus?
Yes - for some.
Discovery+ will become the new home for streaming TNT Sports, replacing the outgoing BT Sport app.
For any existing BT Sport customers, you will have to activate your Discovery+ account to be able to watch live sports on the app this season.
You don't have to do it immediately, mind you. The BT Sport app will still work and users will still be available to watch live sports on it for a little while. However, it will be discontinued at a later date in the season.
For new customers, you will have to subscribe to TNT Sports through Discovery+ if you don't get a BT package that includes sports.
What is the cost of TNT Sports?
For new customers, the cost of getting TNT Sports will depend on if you just want to purchase it through Discovery+ or if you are looking to purchase one of the BT packages.
Subscribing to TNT Sport through Discovery+ will cost £29.99 a month. This will include Eurosport and entertainment.
Will TNT Sports be on Sky and Virgin?
TNT Sports will remain as they are on Sky and Virgin Media TV, only with TNT Sports 1 & 2 replacing the channel numbers for Eurosport 1 & 2 on Sky.
TNT Sports Box Office will be available on all three as well; however, with Virgin Media, it will not be a numbered channel like with BT and Sky but instead will be available as a red button channel when events are on.
Sky has a number of Sky Sports deals available that include TNT Sports, while Virgin Media's biggest bundles include the sports channels as well.
Will there be any changes to any of the shows?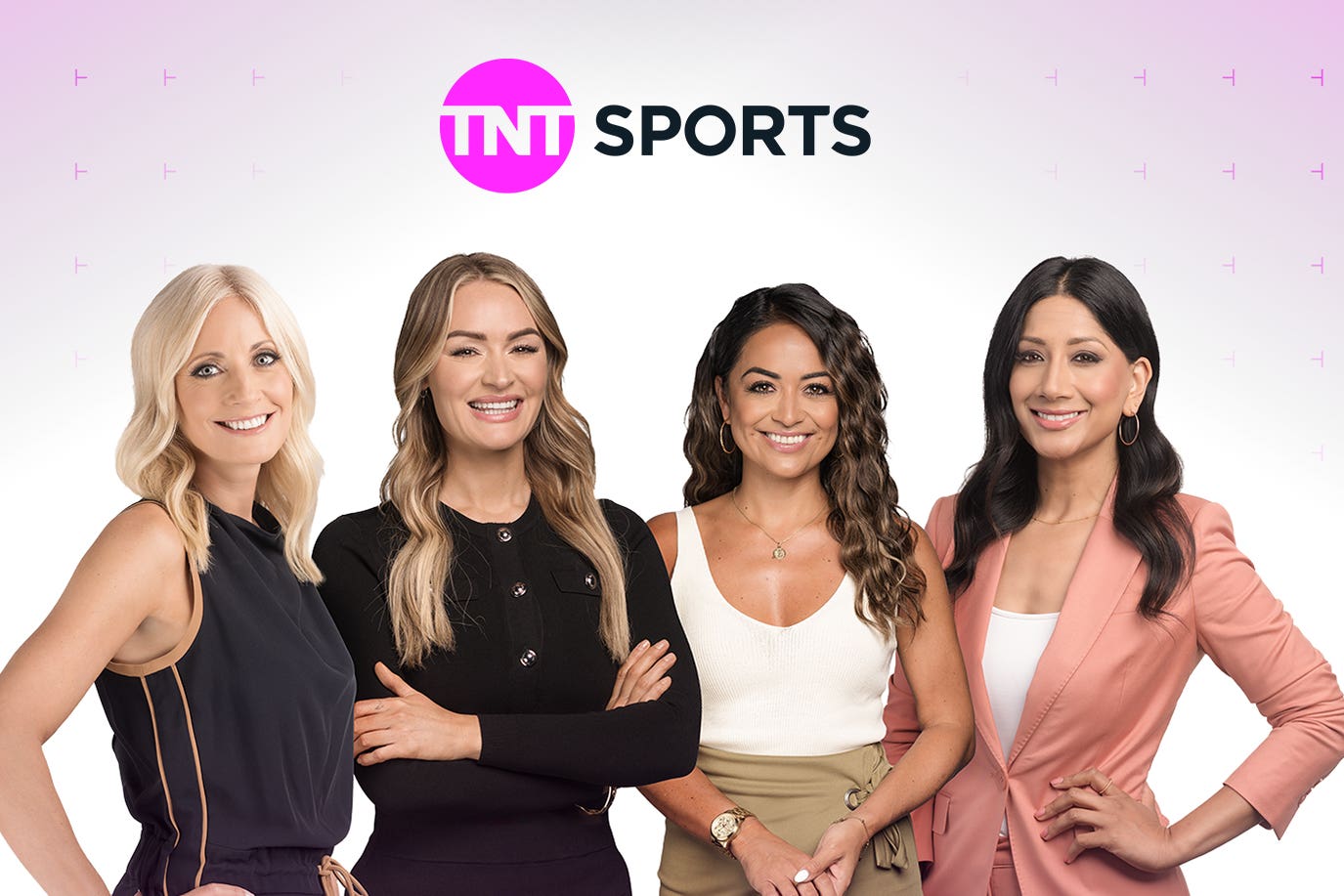 TNT Sports new female-led presentation team; Lynsey Hipgrave, Laura Woods, Jules Breach, and Reshmin Chowdhury (right).
One of the big changes that had already been announced for the newly rebranded TNT Sports is that Jake Humphrey is now gone. He left as BT Sport's lead presenter at the end of last season, as has Des Kelly, who was a pitchside reporter.
To replace them, TNT Sports has announced a new female-fronted presentation team that will be led by the accomplished Laura Woods.
Woods left her role with TalkSport Radio and will now join TNT Sports as the lead presenter for the Champions League this season.
She will be joined by Reshmin Chowdhury, who will also anchor some Champions League games; Lynsey Hipgrave, who will continue to present weekend Premier League coverage; and Jules Breach, who will be taking on Europa League coverage as the lead there, while also lending her talents to pitchside reporting on some occasions.
Woods' TalkSport partner Ally McCoist will also be joining the family as a new co-commentator.