Sky Box Sets
Enjoy hundreds of series box sets with the Sky Box Sets Bundle, and get entertainment in HD as well as catch-up TV and on demand content.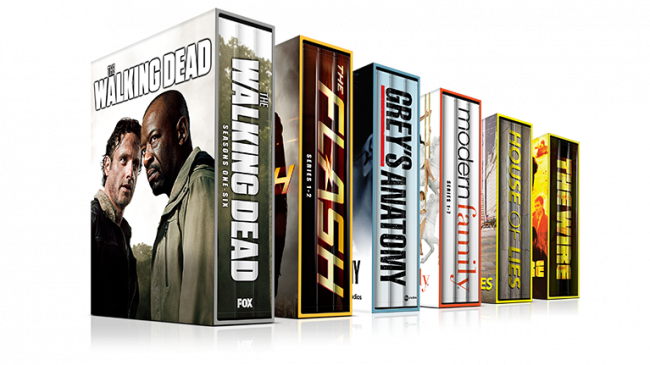 What is Sky Box Sets?
Sky Box Sets is a popular Sky package, and the bundle includes unlimited access to over 350 series box sets. You can easily browse through the titles available and then select to download straight to your Sky Q box via your home broadband connection.
You can search and select individual episodes, with every season of completed shows ready for you to watch. Your download will be stored on your Sky Q box, and you can delete once you've seen it or keep to watch again.
Some shows are only available for a limited time, and once it has expired you won't be able to watch episodes you have downloaded.
Sky Box Sets also includes a wide range of entertainment channels, including everything from the Variety Bundle, as well as HD channels, on demand content and catch-up TV.
Which Sky Box Sets are available?
The actual box sets available with the Sky Box Sets bundle will vary over time, as new ones are added and older ones get removed. Critically acclaimed and award-winning shows like Game of Thrones, The Affair and Mad Men are popular choices for subscribers with Sky Box Sets, but there's a huge range of titles included with the viewing package.
Use the on-screen Sky Programme Guide to access a full list of box sets, and you can see selected listings through categories like 'Comedy', 'Drama', 'Sky Originals' and 'Documentaries'.
How much is the Sky Box Sets bundle?
New Sky customers can get the Sky Box Sets automatically as part of the Sky Signature package for £25 per month, which will allow you to access all Sky Box Sets content in Standard Definition (SD). If you'd like to watch in HD, you can upgrade your package for an extra £6 per month, and add £4 on top of that for UHD (4K).
If you're an existing Sky Entertainment customer, you'll have to switch to Sky Signature if you want to get Sky Box Sets, though this actually works out cheaper than previously and offers all the same content.
Sky Box Sets & Sky Q
All new Sky customers now get the innovative Sky Q box, with 1TB of storage on the standard model. This gives you up to 500 hours of recording in standard definition, and you can record three shows whilst watching a fourth live.
The Sky Q box also acts as the hub for Sky Q Multiscreen, which you can take for an extra monthly cost. With an extra Sky Q box you'll be able to have Sky TV showing different content in two rooms.
With the Sky Q app you'll also be able to stream live, on demand and recorded content on a tablet (selected models).
Sky Q also includes the Sky Q touch remote, which has a touchpad for faster searching, and a smart feature for finding the remote if it's lost.
Choose Sky Box Sets and you'll have Sky Q included, but extra Sky Q boxes and Sky Q Multiscreen are an additional cost. You can also take the Sky Q 2TB box, providing twice as much storage, but the set-up fee will go up.
You don't actually purchase the Sky Q box, so the upfront fees you pay are for installation and set-up. If you leave the contract Sky would take the box back.
Entertainment channels in HD
Sky Box Sets includes entertainment channels in stunning high definition, such as Sky Atlantic HD, Sky Arts HD, National Geographic HD, Film4 HD and Disney Channel HD.
Get the HD channels across categories like lifestyle, kids, music, news and documentaries, and enjoy HD broadcasts of free-to-air channels like ITV2 HD, E4 HD and Dave HD.
Exclusive shows on Sky Atlantic
Sky Atlantic is included with all Sky TV packages, and this channel features some of the best TV from the US and the UK. A number of exclusive shows air on Sky Atlantic in the UK, particularly HBO-produced drama like Westworld and Game of Thrones; you won't find new episodes on another UK channel.
Catch-up TV & on demand
As part of your Sky Box Sets bundle you'll get access to on demand and catch-up TV. The available on demand content is in line with your subscription, so you'll be able to search through shows on channels you have at home, and watch your choice whenever you like.
The catch-up TV lets you go back through recently aired content and download to watch. Free-to-air platforms, like BBC iPlayer, are accessible through the catch-up menu on your Sky Programme Guide.
Add Sky Broadband Superfast
Add Sky Broadband Superfast to your Sky Signature package for vastly improved speeds on your home broadband connection. Your TV show downloads will be much faster than with Sky Broadband Essential and your Wi-Fi network will be quicker too.
Find out more
---