Sky Q Apps
The brilliant Sky Q box brings plenty of great entertainment together allowing you to access popular apps like Netflix, YouTube and Disney+.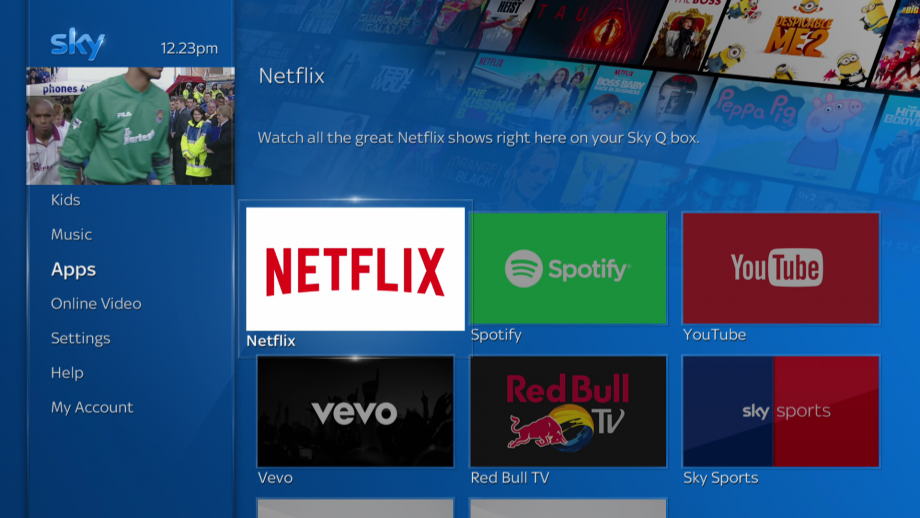 How do I download apps on Sky Q?
Edit: Please note that the standalone Sky Q app no longer exists. You'll now find the same functionality within the Sky Go app which is free to all Sky TV customers.
All models of the Sky Q box come with the available apps like Netflix, YouTube and BBC iPlayer automatically installed. You can learn more about this here.
Is it free to download apps on Sky Q?
There's no way to manually install any more apps on your Sky Q box. Instead, any that Sky decides to add will just appear alongside the others on the relevant date.
Where do I find the apps on my Sky Q box?
On your main Sky Q homepage there will be a list of headings on the left side of the screen. Scroll down through that until you reach Apps where you'll be able to access them all.
What other apps are available on Sky Q?
On your Sky box you can also enjoy:
YouTube
YouTube Kids
Spotify
Roku
Sky Sports
BBC iPlayer
The notable exception is the Amazon Prime app which currently isn't available on Sky Q.
Can I subscribe to these apps through my Sky TV package?
New and existing customers can sign up for Sky Ultimate on Demand which adds the price of your Netflix subscription into your Sky TV bill.
You'll also get recommendations for what to watch on Netflix and Sky side-by-side and be able to dive back into what you're currently binging without having to open up the Netflix app.
Find out more
---