Sky Boxes
Using the Sky Q box you can pause, rewind & record live HD TV & use Sky's unique 7-day EPG to see what's on over the next week.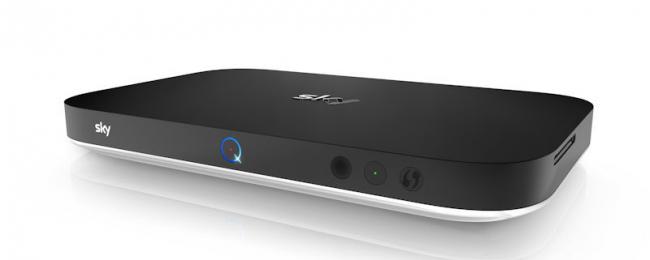 What are Sky Boxes? Sky boxes explained
Using the Sky Q box you can pause, rewind & record live HD TV & use Sky's unique 7-day EPG to see what's on over the next week.
Your Sky Q Box decodes the digital signal received via your satellite dish. You won't be able to watch much without one! But which Sky Q box you decide to choose really depends on what you want from your Sky subscription.
The Sky Q box is not just a traditional Sky box, it's a complete digital entertainment hub. You can record more shows, stream to other devices and the Sky Q box even acts as a Wi-Fi hotspot. Users can also add a Sky Q Mini Box that's included with the Sky Q Multiscreen addition, allowing you to watch shows and recordings from your main Sky Q box in another room.
The Sky Q box can pause, rewind and record live TV, giving you more control over your viewing. If you're going to be out and miss your favourite TV series, you can set the box to record each episode automatically, or record something as a one-off. The box memory allows for hours of recording time, and with the Electronic Programme Guide you can see what's on in the coming week.
Remember that you will need an HD TV to watch in high definition.
Sky Q 2TB box
The Sky Q 2TB box is Sky's most ambitious set-top box to date. It's at the cutting edge of technology and future updates will really show what it can do. Its 2TB hard drive can store up to 350 hours of HD TV and it can record six shows at once while you watch a seventh live.
You can stream on 2 additional TVs via Sky Q Multiscreen and Sky Q Mini boxes, plus one device with the Sky Go app, allowing for 3 different viewing experiences throughout your home. The Sky Q 2TB box allows you to enjoy UHD content providing you've got a compatible TV and the HD and UHD packs.
The box also acts as a Wi-Fi hotspot, supporting speeds of up to 802.11ac. Mind-blowing digital audio is delivered via HDMI or from the dedicated optical out socket, and you can also stream music via Bluetooth or Apple AirPlay.
The box itself is slim, sleek and unobtrusive measuring in at 232 x 155 x 34mm.
Sky Q 1TB box
The Sky Q 1TB box brings all the same streaming and Wi-Fi tech but there are some compromises. You can store 150 hours of HD TV and record three shows at once while watching a fourth live. You can also stream content from your box to additional devices, via Sky Q Multiscreen and the Sky Go app.
Both boxes come with the all new Sky Q touch remote. This remote is Bluetooth-enabled with a touch pad that makes searching through menus much easier. If you touch the "Q" on the front of the Sky Q box the remote will start to beep, making the dreaded lost remote a thing of the past.
Sky Q 1TB UHD box
If you don't want the Sky Q 2TB box but would still like to enjoy UHD content, the Sky 1TB UHD box is for you.
Sky's range of UHD content is constantly expanding with a great variety of films, sports and series already available. Don't forget you'll also need a compatible 4K TV and the HD and Ultra HD add ons.
Sky Q Multiscreen
Sky Q Multiscreen allows you to watch Sky TV in other rooms of your house for an extra monthly payment on top of your subscription fee.
Customers who add Sky Q Multiscreen to their package will receive a Sky Q Mini Box, which they can attach to any other TV in their home. This box will allow you to watch something different to what's being shown on the main Sky Q box and also acts as a WiFi booster to improve the strength of your broadband signal.
You'll also get free access to Sky Go Extra which is normally an extra £5 a month. On top of being able to stream live TV, your recordings and on-demand content, it allows you to download certain films and TV series to watch offline wherever you like.
Find out more
---