Sky WiFi
Sky customers can browse the web whilst out & about thanks to the Sky WiFi app, with thousands of Cloud WiFi locations offering unlimited usage.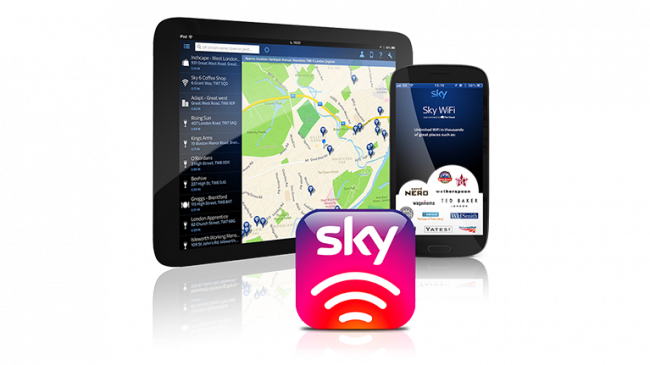 What is Sky WiFi?
Sky WiFi is an app available on both iOS and Android devices which allows all Sky customers with Sky Broadband Essential and Sky Broadband Superfast packages to access free public WiFi via one of The Cloud's many hotspots.
Sky WiFi: Cloud WiFi
The Cloud is a public provider of WiFi who has thousands of hotspots present in locations all across the UK.
Sky customers are able to connect to any one of these WiFi hotspots with a smartphone, tablet or laptop and enjoy activities like browsing the web, streaming video, catching up on emails and updating social media at no extra charge.
Sky WiFi: Cloud access
Once you've downloaded the Sky WiFi app, simply enter your Sky iD username and password and you'll be connected up to any Cloud WiFi hotspot in range.
You can also manually search for nearby Cloud hotspots via Sky's Hotspot Finder and conveniently, the app acts to always remember your log-in details so whenever you pass by a hotspot it'll act to automatically connect you.
Sky WiFi: Cloud coverage
You'll be able to find Cloud hotspots up and down the UK in places like restaurants, pubs, shops and railway stations. They're all free to use and won't eat up any of your mobile data so you can stay connected for long periods of time without having to worry.
Sky Go App
Sky customers can also use Cloud Wi-Fi hotspots to enjoy a variety of live and on-demand content on-the-go with the Sky Go app.
Due to certain contractual obligations, not every single channel under your subscription package will be available but you should be able to find most of what you're looking for.
Find out more
---