Sky Store
Sky Store brings you thousands of movies and TV shows available to buy or rent on demand. Choose from a range of genres, with new releases and classic fan favourites ready whenever you want.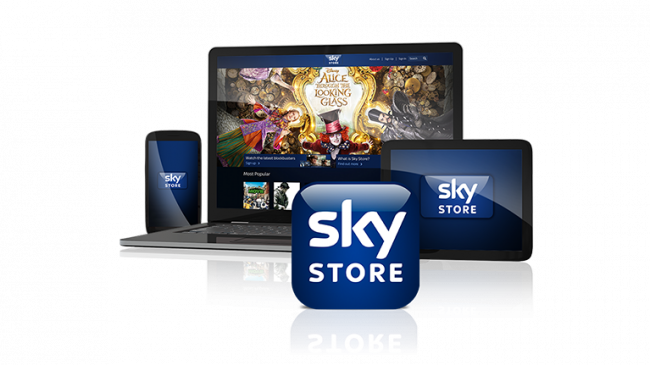 What is Sky Store?
Sky Store is an on demand service from Sky that allows you to rent or buy a huge variety of films and TV shows. There's something for everyone with genres spanning across action, romance, drama, comedy, horror and sci-fi.
If you'd like more information about the Sky Store, we take a more in-depth look at the service in our handy FAQ.
How to access the Sky Store
All Sky TV customers can easily navigate through to the Sky Store from the homepage. You just need to ensure that your Sky box is connected to the internet.
The Sky Store is also available through your internet browser on both PC and Mac. You can either sign in with your Sky iD and or create a new account if you're not a Sky customer.
Content can be bought or rented in your browser but you'll need to watch it in the Sky Store desktop player. This is available to download for free from the website.
The Sky Store app
The Sky Store app is available to download for free on a range of both iOS and Android devices. It can also be found on NOW TV and Roku set top boxes and streaming sticks.
On iOS, you aren't able to rent or buy anything through the app. You'll need to do that via a browser, your Sky TV box or an Android device.
Unfortunately, you can't watch anything from the Sky Store through the Sky Go app.
Can I rent or buy content from the Sky Store in HD?
Providing you've got an HD TV there's plenty for you to enjoy in stunning high definition. When you select a title there will be the option to either buy or rent it in HD.
Can I download anything for offline viewing?
Only those films and TV series that you've bought can be downloaded to watch anywhere without an internet connection.
How long do I have to watch my rentals?
Once you've rented a title you'll have a week to press play. After you've played it, you'll have 48 hours before it vanishes in which you can watch it as much as you like.
Sky Store rental fee
The price of your rental is automatically added onto your bill at the end of the month so you don't have to worry about paying for anything upfront.
The cost of each film or TV show really does vary depending on when they were released but there's quite often a sale on so you can pick up certain titles for much cheaper.
Find out more
---