Sky Sports - Price & Packages
Sky Sports brings you groundbreaking sports coverage across 10 dedicated channels, with live action, highlights, exclusive interviews, in-depth analysis and 24/7 news.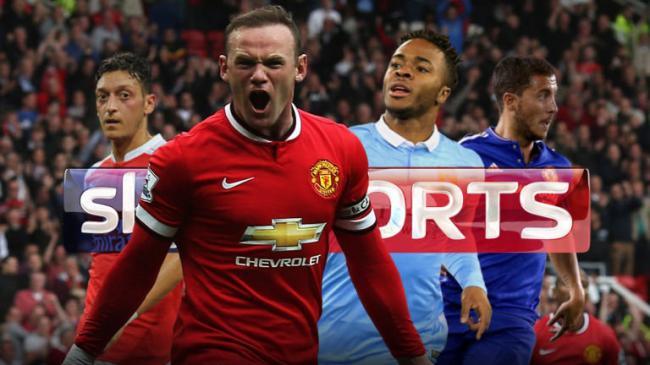 Sky Sports Premier League - exclusive live action only on Sky Sports
Football fans are treated to loads of Premier League games throughout the season on Sky Sports, with plenty of Top Picks and over 100 exclusively live matches.
There's also the new Friday Night Football show, giving you a great seat so you can enjoy the unbeatable atmosphere and excitement of an evening clash in the country's top league.
There's more than the Premier League as well; with Sky Sports Football you can watch games from the Sky Bet Championship and The FA Cup, as well as Spanish football from La Liga, including El Clasico between Real Madrid and Barcelona.
Golf, cricket, F1 and more
Sky Sports viewers can enjoy a huge range of sport from the dedicated Sports channels, such as Open golf and complete Ryder Cup coverage on Sky Sports Golf. There's every race of the Formula 1® calendar live and uninterrupted on the Sky Sports F1 channel, and all forms of cricket, including England Test, One-Day and T20 matches live on Sky Sports Cricket.
With coverage of rugby league, tennis, darts, boxing, WWE and NFL on Sky Sports Arena and Action, Sky Sports lives up to its billing as the home of sport.
Sky Sports packages
You can get the Complete Sky Sports Pack, which includes all 10 dedicated Sky Sports channels, as well as everything from the Original Bundle. This gives you a range of entertainment channels, including the popular Sky Atlantic, alongside the exclusive sports coverage.
You can also add Sky Sports to other viewing packages, so you could choose the Variety Bundle, for more entertainment channels including music and documentaries, or the Box Sets Bundle for over 350 Sky Box Sets and inclusive high definition channels.
The Complete Bundle gives you Sky Sports and Sky Cinema, as well as the entertainment channels and Box Sets.
What's on Sky Sports?
In the 2017/18 season there are 126 Premier League games, including a number of Top Picks, which are the prize games for a sports coverage provider.
Soccer AM is Sky Sports' entertaining morning football show on Saturdays, whilst Gilette Soccer Saturday sees Jeff Stelling and his regulars take you through the afternoon action.
Super Sunday usually sees two live games, with extensive coverage, interviews, analysis and features, whilst the new Friday Night Football will focus on one game.
Every F1 race of the season is live on Sky Sports F1, as well as all the qualifying, and there's always plenty of race build-up, grid-walking, pit lane reporting and interviews to enjoy.
England cricket is live and exclusive, with Test, One-Day and T20 matches, and you can catch county cricket, as well as other huge international matches between the likes of South Africa, Australia and the West Indies.
Sky Sports cost
Customers are able to choose one dedicated Sky Sports channel for £18, two for £22 and three for £26. With the Original Bundle at £22, it means the cheapest Sky Sports option would cost £40 (£22+£18). However, Sky offers the Complete Sports Pack, with every Sky Sports channel, for just £20 a month on top of your TV bundle. This effectively restarts your contract; when you take all the channels it's a new 18-month contract, whereas the individual channels are sold as 1-month add-ons.
There are often introductory rates and discounts, so look out for these making Sky Sports cheaper for a limited time.
Sky Sports HD
You can enjoy Sky Sports in stunning high definition by choosing HD with your Sky viewing. This means choosing the Box Sets Bundle, and that gives you more than 50 channels in HD as well as over 350 box sets.
If you choose Sky Q then this opens up Ultra HD, which offers a new standard for crisp, clear home viewing. The picture quality is enhanced, with smoother colours, bringing you an even better experience.
You'll need a 4K Ultra HD screen, as well as the Sky Q 2TB box and a Sky Q Multiscreen subscription. You can then watch Sky Cinema and Sky Sports in Ultra HD, as long as you have those packages.
Sky Sports channels
The Sky Sports channels are:
Sky Sports Premier League
Sky Sports Football
Sky Sports Cricket
Sky Sports Golf
Sky Sports Arena
Sky Sports Mix
Sky Sports Action
Sky Sports F1
Sky Sports News HQ
Sky Sports Main Event (If you take all packages)
Sky Sports News HQ
The Sky Sports News HQ channel gives you complete, 24/7 sports news coverage. You'll get the latest breaking stories, with information from Sky's sources, as well as interviews and opinions from sports stars past and present. It's also the home of Transfer Deadline Day; catch the big-money last-minute signings in the Premier League, on the final day of the country's transfer dealings.
How do I get Sky Sports?
You can either phone Sky or order the Sky Sports Bundle online. You'll need a dish installed if you're a new customer and one is not already attached to your home, but Sky will sort this out for you as part of the set-up.
Upgrade to Sky Sports
Existing customers can do a Sky TV package upgrade to get the Sports Bundle, or any other bundle they like. You have the option to mix Sky Sports with other bundles, or take the Complete Bundle which has Sky Sports, Sky Cinema, Sky Box Sets and HD.
Sky Sports with the Sky Sports App
For Sky Sports on the go and on demand you can use the re-launched Sky Sports App, available on a range of tablets, laptops and smartphones. You'll be able to watch live channels, or select from the on demand content, and you can access Sky Go wherever your device has a good web connection.
The Sky Sports App is available for no extra charge, with a simple sign-up, and you can watch all on demand content and live channels in line with your subscription.
Sky Sports deals and offers
You can usually find offers, discounts and incentives with Sky when you're a new customer, and some for existing customers as well. They won't always involve Sky Sports, but it's worth checking out what is on offer and seeing if you can get a good deal.
Find out more
---